Read more about web design Cork and drop us a message!
Flat file database free web sites

Recently I have had the opportunity to play around with a database free CMS called GRAV. What a pleasure it is to code and use!
First of all it comes with an admin plugin, where I can publish new pages, view stats, edit content, upload images, basically everything a CMS with a database can do. I often forgot while working with GRAV that there isn't a database driving it, which just shows how flawless the admin interface is.
Taken from the GRAV website below:
Grav is not your average CMS. It's an open source, flat-file NoDB CMS written for PHP 5.5.9+ that is focused on being crazy fast, easy to learn and use, with powerful features to enable it be easily extended.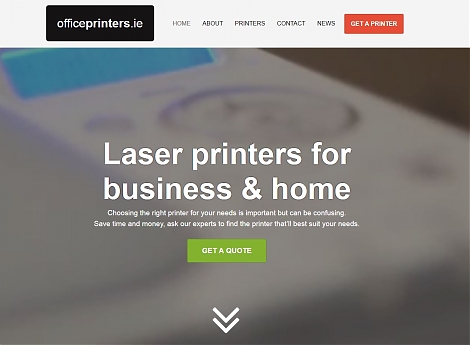 Check out our latest launch at Office Printers Ireland to see the latest web design trend continuing on from 2015.
HTML5 Video background
In order to provide the best separation between text and background image/video, employ a div which will cover the background with an opaque colour which the text can then sit on top of and remain legible.