…we can simply strip out what doesn't work on mobile, simplify the information, and create a custom design that will render fast and be easy to use for someone on mobile phone or tablet. Once your main web site is updated, the exact information is presented on your mobile friendly web site but in an easier way for mobile users to see and navigate through.
Basic principles of mobile website design
Website becomes one column layout
Text/font size is increased
Javascript is simplified or made mobile friendly
Images are dynamically re-sized to never stretch wider than the phone screen resolution
Google maps V3 is used, this is a mobile friendly version of the Maps

API

Elements like fixed sections which may work for desktop users, are made to scroll for mobile users providing a better overall experience
Web forms are HTML5 meaning they are mobile friendly, enquiries can be sent through via web form in the same way as a desktop user
Tablets are increasing in resolution so fast that most web sites look absolutely fine on tablet, but the same cannot be said for smart-phone devices which operate at an average resolution of 480px, ie. very small! Given the small size of the screen on top of that, links can be difficult to click on, text can be difficult to see if too small etc, so it's very easy to rectify this situation and present a mobile version of your web site for users.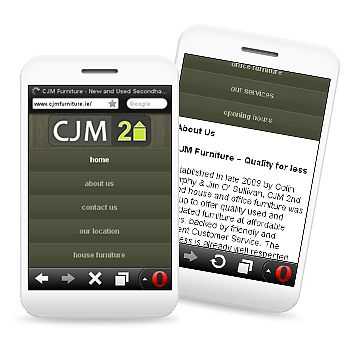 "Globally, smartphone ownership has almost doubled in one year from 19% in 2010 to 35% in 2011. In Ireland, we see an increase in smartphone ownership from 35% to 49% from March 2011 to November 2011. In the same period, we see that tablet ownership has doubled from 8% to 16%! The study also shows that growth in smartphone and tablet ownership will increase further in 2012. By the end of 2012, 71% of the Irish population expect to own a smartphone, while 41% expect to own a tablet." Red C Research
Google recommends responsive web design!
Just read here Google's recommendations for mobile web design.
Google also are ranking responsive web sites differently on mobile results, so although their algorithms are top secret, we do know that mobile friendly web sites are ranking higher in search results. Coding to Google's recommended standards will always be good for the overall health of your site!
1. Responsive web design: Serves the same HTML code on the same URL regardless of the users' device (desktop, tablet, mobile, non-visual browser), but can render the display differently (i.e., "respond") based on the screen size. Responsive design is Google's recommended design pattern.
Mobile Website Cork
Check out our most recent mobile website project for a local Cork company, www.hartigankitchens.com and you can see the mobile version of this site on your smartphone.
Contact us for prices on responsive mobile web design including retrofits for your business!