What is Google Plus?
Google Plus is Google's social network, born out of Google Buzz which failed and was ultimately shut down in 2011 due to lack of take-up, the concept was re-born but this time Google ditched the emphasis on chat, and focused all of their efforts on content generation by users, image sharing, and local business listings plus reviews. They do have 'hangouts' including video and Google chat, in my experience the Hangouts are not currently working well for large groups of people, as people join and leave a public video hangout the system can hang on various participants, but a fantastic offering for small gatherings and I'm sure one they're working on all the time.
A much more comprehensive solution, but they didn't stop there. In order to verify the authority of web sites, they now requested that you place an authorship tag with any content you generate around the Internet, whether your own web site, or guest blogging on other web sites. This authorship tag means Google can track your presence, your web domain can be verified and attached to it, and the ultimate aim with this is to reduce the amount of spam on the Internet. Now we have real people, with real names, an authorship tag that links them to a domain, if that is combined with social media sharing, directory listings and user reviews, Google has a people powered way to rank the best content and businesses over simply picking out keywords from a page.
Google Plus Local
Inside the social network Google Plus, is a link called 'local', when you click into this, you will see some recommended local places with images, ratings, map, you can click into these local listings to see the business page of that business. Personal profiles inside Google Plus create this business page, and in a similar way to Facebook they can then 'login as' or 'switch to' this page, so that all posts are under the page profile, they can follow other pages, post into community pages etc. Basically they navigate the site in the same way a personal Google Plus user does.
Google authorship tags
As mentioned, every Google Plus profile has an authorship tag which you can use in your HTML for your domain, or guest blogging, once your web site is crawled by Google it picks up this authorship tag with each article and displays your Google Plus avatar next to search results.
Example code:
<span itemprop="author">By Hilary Quinn</span>

The current statistics on what an authorship tag does to click-through rates are just not available yet, but there have been small studies reporting a 33% increase in click through rates and a fantastic and unintentionally humorous experiment by Cyrus Shephard on optimising the photo itself and studying any increase in click through rates via your own Google Analytics.
Guest blogging
Guest blogging on a reputable web site, with your author tag attached and a link back to your main site is going to be gold for Google ranking weight. Should you engage people, get a lot of clicks back, a lot of good feedback and discussion, this is what is going to dominate top spots for search results now. Be an expert in your field, be engaging with people and open to discussion points.
Google publisher tags
There is a separate publisher tag for your Google Plus business page, this links your web site to your Google Plus page:
<a href="https://plus.google.com/[yourpageID]" rel="publisher">Find us on Google+</a>
Now at the moment it seems the only function of the publisher verification is to verify your domain, but there do seem to be hints that publisher data could also be mixed up with search results in a similar way to authorship, perhaps showing a logo next to a search result instead of a personal G+ avatar, but we shall have to see!
You can test both your authorship and publisher tags using the Google rich snippets tool.
Click-through rates and search ranking
There is a much bigger emphasis now on click-through rates as an indicator of your web site being pertinent to a certain search query, and that is combined with engagement and social sharing data for Google to determine how relevant your web site is to a query, but then also if people linked to it, shared it via Twitter/Facebook/G+, or added comments in the case of blog articles. Click-through rates seem to have a phenomenal effect on ranking from my own data. So if you get a click-through rate improvement as a result of adding an authorship tag, or adding publisher data, or getting some +1's (which is going to bump you up!), there's a cumulative effect that as you move up in ranking your click-through rate and traffic numbers are increasing all the time.
Yellow pages and
YELP

listings

Google have most definitely taken the large directory listings very seriously with this latest update. As much as it's important to have reviews for your page directly on Google Plus, ratings in other high traffic sites around the Internet seem to be almost equally effective. Most surprising to me was the jump in rank for those simply listed online in a Yellow pages directory with no ratings at all, simply a business name/phone/email/url, the reward for simply being listed makes me re-consider my rejection of these methods!
Penguin 2.0 overall
Penguin 2.0 as it's being called, was a major algorithmic change implemented to Google ranking in order to weed out the spam or bad quality content, and let the cream rise to the top. Now I'm not going to say it's perfect, and some web sites I know are suffering maybe due to a spam web site linking back to them through no fault of their own, or for other innocent reasons but don't forget, in Google webmaster tools you can remove that back-link from Google which will help, and anyone that loses ranking can get it back by producing great quality content and being thoroughly engaged on Google plus and other social networks. This is all about putting a human face on each business, and that's great to do in general outside of search results in the real world.. ;) .. this way of thinking I believe is refreshing, I think Google Plus is fantastic, everyone should get on there, and if producing great quality content and updating web sites frequently is what people get rewarded for rather than filling search results with inane keywords repeated so often it fails to make sense as language anymore, great!! You can read more on Penguin 2.0 on Matt Cutts blog.
Top 7 Google maps results different to dedicated maps page
At the moment in Ireland we are still being shown the 'old' Places data for the top 7 results for Google Places at the top of the page. This at the moment just means a discrepancy between the marker ranking on your search result page, when compared with the dedicated Maps page. This is because the dedicated Maps page has already been upgraded, so this data is more current, unfortunately we just have to wait for Google to roll out the new Local data for search results to be uniform.
Eg. Search for 'Hotel in Cork', comparison between top 7 marker letters and maps marker letters/ranking. I logged out of my G+ account and cleared all cookies/cache etc so this is not as a result of personalised results!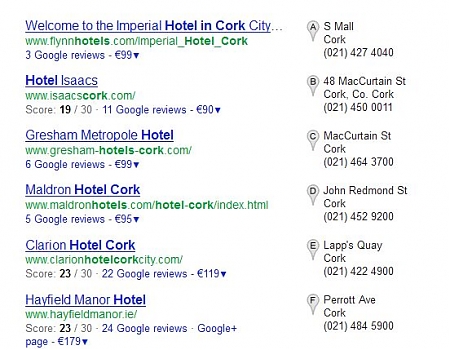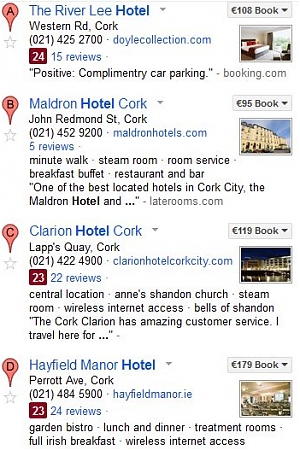 Google Local Results Carousel
Again in Ireland, we don't have a carousel yet, in the future, as has already been rolled out in the US for certain searches, we will not even have the traditional 'top 7' local maps listings mixed in with paid/organic search results. Instead we will have a carousel of local results at the top of the page, making each local venue the same level, listed left to right rather than top to bottom.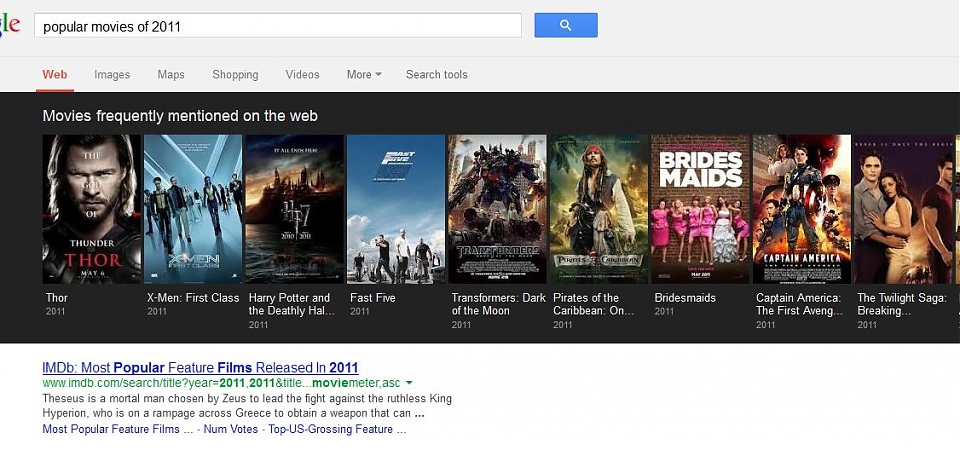 The distance from the top, currently the letter on your marker, won't matter as much, in fact I daresay the local carousel listings will get more clicks on the right hand side even though technically further down in ranking, the most important thing will be not to disappear behind the first 7 listings as the second click on the carousel will have minimal traffic. Thankfully through the fight between the top 7 won't just be about keyword stuffing it will be again about quality of content, click through rates, social engagement etc.
Google Carousel based on Knowledge Graph
Just a nice video below, not technical, but giving a quick overall vision for what Google is trying to achieve with these updates and where it is headed for us as SEO's.. at least as much as we can keep up! ;)
Black Hat
SEO

in Google Plus Local

So I have noticed for some searches, let's use a fictional example, a hotel called 'Will's Hotel XYZ' instead of creating a Google Plus Local listing under the name 'Will's Hotel XYZ', instead literally ditches the company name, and uses 'Hotel in Cork'. Now considering how much Google wanted users to use their real names even just to set up a personal G+ account, I can't see this going unnoticed. If you see tactics like this rising to the top of listings please don't get disheartened. It's awful branding, I can't see how customers will click into a result displayed with no strong branding behind it, and it's only a matter of time before Google starts putting harsh penalties on this kind of thing. With the amount of data they collate and their ability to build a full profile around it, they will be able to weed out this practice as it's exactly what they don't want on their own social network. So just keep it clean yourself, and let the others play a risky and honestly customer un-friendly game regardless of the SEO aspect.

Thanks for reading, don't forget to comment below and/or click my social sharing links if you found this useful! ;)