In today's blog, I cover ranking your website in local search, Google Search Engine Result Pages specifically. We call these SERPs.
You will see local maps listings displayed in SERPs which are managed by Google Business Profile, a fantastic free tool for you with an app to keep your profile updated, and even reply to potential customers.
Playing this video loads a YouTube embed in privacy-enhanced mode.
Google Business Profile (
GBP

)

The first free tool you might be familiar with, is Google Business Profile, which manages your maps listings. If you have a physical shop presence or if you serve customers at their location you can set up a Google Business Profile listing. This listing works with your web ranking, among other signals like proximity, to organise what order you appear compared with your competitors in the 'maps pack'.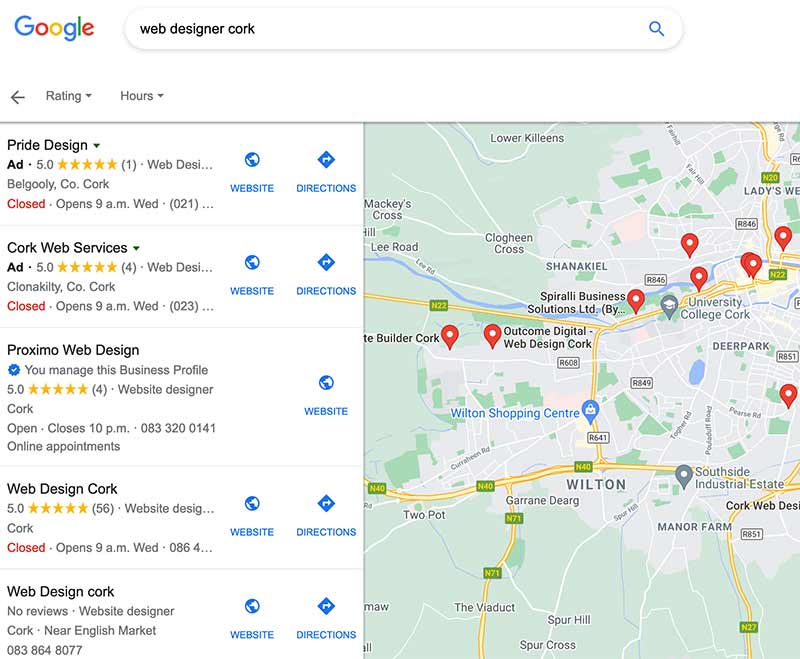 If your website ranks for a keyword, your maps listing will also rank for this keyword, however you also need to optimise your GBP listing in its own right, paying particular attention to the category or categories you choose for your business. You can also post updates to your GBP profile, you can add products from your e-commerce website to your GBP profile, and believe me when you start to see the numbers of views and clicks from GBP to your website you'll never look back.
A large scale study in 2019 gave us amazing stats on GBP, and I can only imagine the numbers have grown since then.
On average, 56% of actions on

GMB

listings are website visits.
16% of businesses receive more than 100 calls each month from

GMB

.
With a huge number (81% according to a study by Brandify) of these local maps searches being performed on mobile, it has never been more important that your website is mobile friendly for when you do get that click. In general, just keep on top of your Google Business Profile listing:
Add posts.
Upload photos.
Get reviews
Respond to reviews.
Sources: searchengineland.com – moz.com
Google Search Console
Returning to your website itself now. Your first question when looking at your website through an SEO lens, is where do I begin applying SEO to my website. The second tool I'll discuss today that is an absolute must, and is free to install is Google Search Console.
Setting up Google Search Console can be as easy as inserting a meta tag into your website, a lot of hosted website solutions might have a page to let you easily do this, and if they don't just copy your meta tag as generated by search console and send it off in a support ticket where a technical support advisor can insert it for you. If you already have Google analytics on the website you should be able to validate for search console through that, you can also upload a html file, add a dns record so just look up that process in Google and see which method works for you.
Google search console is a free tool that Google provides which will give you data on exactly what pages on your website are currently ranked, how much traffic is coming in from those pages, what search queries people used to arrive on your website and more. From this data, you can track ranking movement in the SERPs from any changes you make on your website, and I'm going to discuss below the most common areas of improvement I come across.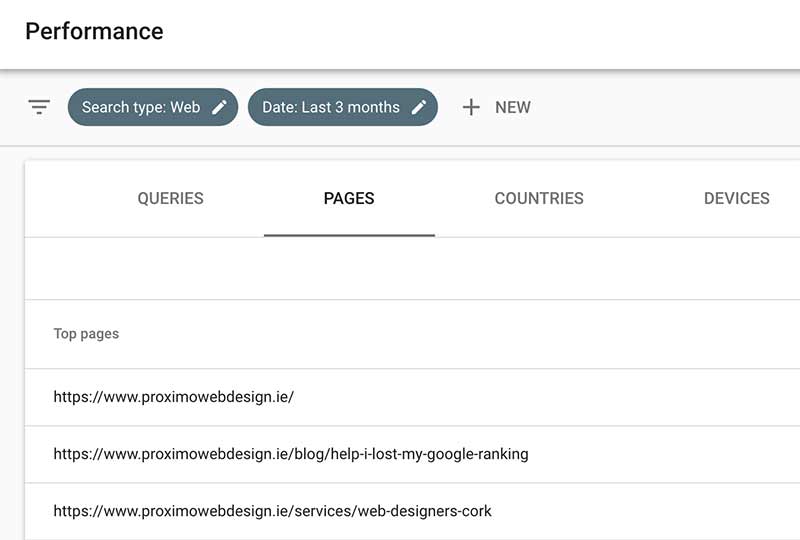 SEO begins below, with simple changes that need research on keywording to achieve great results.
How to target local searches using your website
The top two basic mistakes I see are:
Not using keywords and key phrases in your page titles.
Not having compelling meta descriptions.
You are probably used to seeing page titles and meta descriptions every day within search results, these are the 10 blue links you see in Google's search results, that show a description underneath each link.
That blue link you click on typically comes from the text within your page title tags, although Google reserves the right to change it depending on the users query. The descriptive text underneath, will typically come from your meta description. This text used to be a very important source of keywords, now it's not so much a source of keywords as it is to write compelling text there to incentivise that click.
Why should someone click into your search result? That's what your meta description will tell them.
Google will re-write meta descriptions as it sees fit, however John Mueller, a search advocate with Google, says there's a high chance of Google using your provided meta descriptions if they meet these three criteria:
Unique meta descriptions are written for each page.
They're short enough to fit in a search results snippet.
They match what users would generally be looking for when going to that specific page.
Source: searchenginejournal.com
Google generally allows approximately up to 160 characters towards meta descriptions before it truncates it.
Where we used to think of page title length in terms of number of characters, characters can vary in width and Googles display titles are at maximum 600 pixels in length. That could roughly correspond to 60 characters and longer than that 600 pixels will be truncated.
With your page titles, a lot of people tend to put their brand name first, and their keywords afterwards, and I would advise to reverse that. Putting your brand name to the end of your page title, and the keywords you want to rank for first. It's quite easy to rank for a unique company name, but it's not so easy to rank for a competitive keyword so this tactic of putting your most important keywords first, should not effect you ranking for your brand name at all, especially when your brand name is also in the content of your website. This decision is dependent on your business of course, for example if your brand name has a high level of recognition you might decide to put it first, so do use your own discretion with any SEO advice!
Eg. #1 Keyphrase | #2 Keyphrase | Brand Name
Make sure you give every page on your website, a unique page title, the same as your meta description should also be unique to each page. Remember you are still serving humans with your page title tags too, and not just Googlebot, so the titles shouldn't be keyword stuffed in a way that makes them unfriendly and unreadable.
You can also insert local targeting into your page titles to signify what local area you cover, this works with your Google my Business listing to further indicate to users you are active in a specific area or city, and those searches with local intent can convert much more easily.
Also make sure:
Your location is listed on your contact page.
Your Google map is embedded on your contact page.
This all helps to associate your business with this location. Use business directories to further reinforce this. And make sure your details like name, address, phone number, (*NAP) are consistent* across all of your internet presence and listings.
If you are embedding a map on your location page or pages, make sure you also insert code to make that mobile friendly / responsive so that it doesn't break your page layout. This is especially important when Google is using a mobile-first index for your pages.
Directory listings
In Ireland, the Golden Pages directory is a very well established and trusted source of local business contact information. You can get a listing on their online directory at www.goldenpages.ie When you do use local business directories, make sure as mentioned above that your contact information is consistent.
Local business structured data
This next bit is a little more advanced, if you want to help Google to understand your local presence even more, you can also add 'local business' structured data to your website.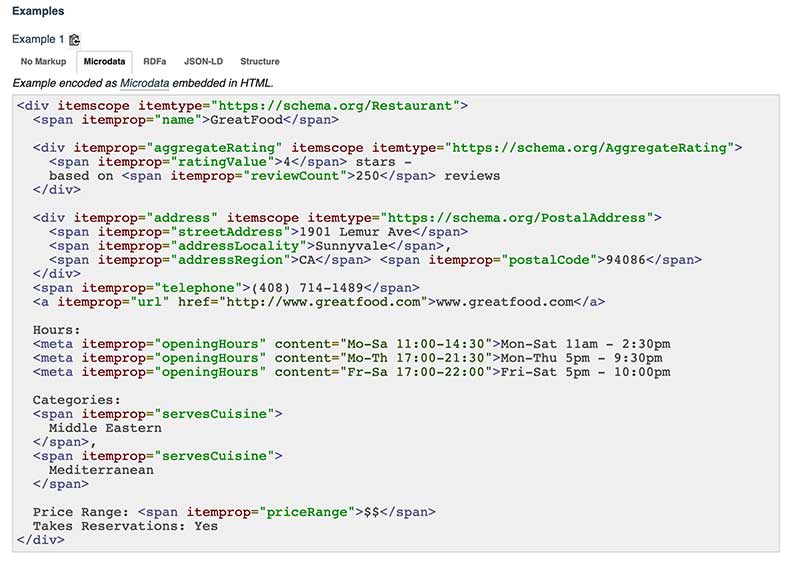 This is a more advanced way of marking up local business data on your website so for anyone that does want to delve into that more, use the website https://schema.org/LocalBusiness to get a feel for how that mark up is applied. In particular this mark up can be added to your contact page, and it can be added to your home page and about page where appropriate, this might be something you engage with your web developer on to get assistance with implementing.
Source: https://www.mariehaynes.com/january-22-2019-google-help-hangout-notes/
Make a start on your local business
SEO

!

There is SO much more I could go into, but for now, that's how to make a start at optimising your website for Google search in the right way. I hope this article helped you, please do share it out or connect with me on social media (Just search Hilary Quinn on LinkedIn) to get more info like this of value to you!