Learn more about planning content for your website, before you even enter into the search engine optimisation (SEO) stage of content creation as it relates to keyword research and writing.
Playing this video loads a YouTube embed in privacy-enhanced mode.
Website outline
When creating your website, one of the most important requirements, is a site map / list of pages to create a content outline, including any hierarchy like static page, article list page, article list page with categories.
For example, your website page and hierarchy outline might look like:
Home
About
Services
Products

Category One
Category Two

Blog
Contact
The way I like to structure pages that are three layers deep, eg. products > category > article, is that the categories are supplementary, but the products page will list all products, which you can then filter down per category if you wish.
Ok, so you've made a rough list of pages and mapped out the structure of your website, but how can you create content for it? And how do you know what pages to include? The following Q&A will help you to create a content strategy for your website that works.
Who am I writing my content for?
I fall down on this because I want to write to my target market of business owners, but I end up writing for other SEO's. Having said that, having that technical content still goes towards making me an authority in my niche.
When I'm working on behalf of my clients it's much easier to serve content that reaches their target market and write for them directly, but for me because I know how handy code snippets are if someone technical lands in on my blog, I do include those code snippets with the hope that less technical people will skip past and still get a beginner level understanding.
Think about who your target market is, and the cliche but very appropriate approach of, how am I solving their problem? This might not always write how it seems, for example, I might think I'm solving for a website's lack of SEO, I'm actually solving for how to get sales inquiries from your website!
What pages should I include on my website?
In terms of S.E.O., Google likes 'about us' pages, and so do customers because your about page is showing off your credentials and your teams credentials if you're a bigger company.
Ideally each member of your team should have their own bio page leading off from your about us page. If you're a freelancer and/or you are your brand, then your about page should be all about you.
Who are you?
Do you have qualifications in your area?
Have news websites published articles about you?
Link to those, and generally speak to your credentials in your niche.
A 'contact' page is also good, don't forget NAP, name address, phone number, these details need to be consistent across the internet where possible, and for local business websites you can embed your Google map directly onto the page which really reinforces that your business is what and where it says it is.
You have general notice pages like your privacy policy page that are legally required, and your terms and conditions page which of course is very important if you allow users to contribute content to your website including commenting, you will need a solicitor or lawyer to help you with this.
Some other typical pages you might think about for your website, a testimonials page or a scrolling section of testimonials on your website, services pages, product pages, blogs or news pages. Also consider including a frequently asked questions page, which I will discuss below!
Do I have existing frequently asked questions (
FAQ

) in-house?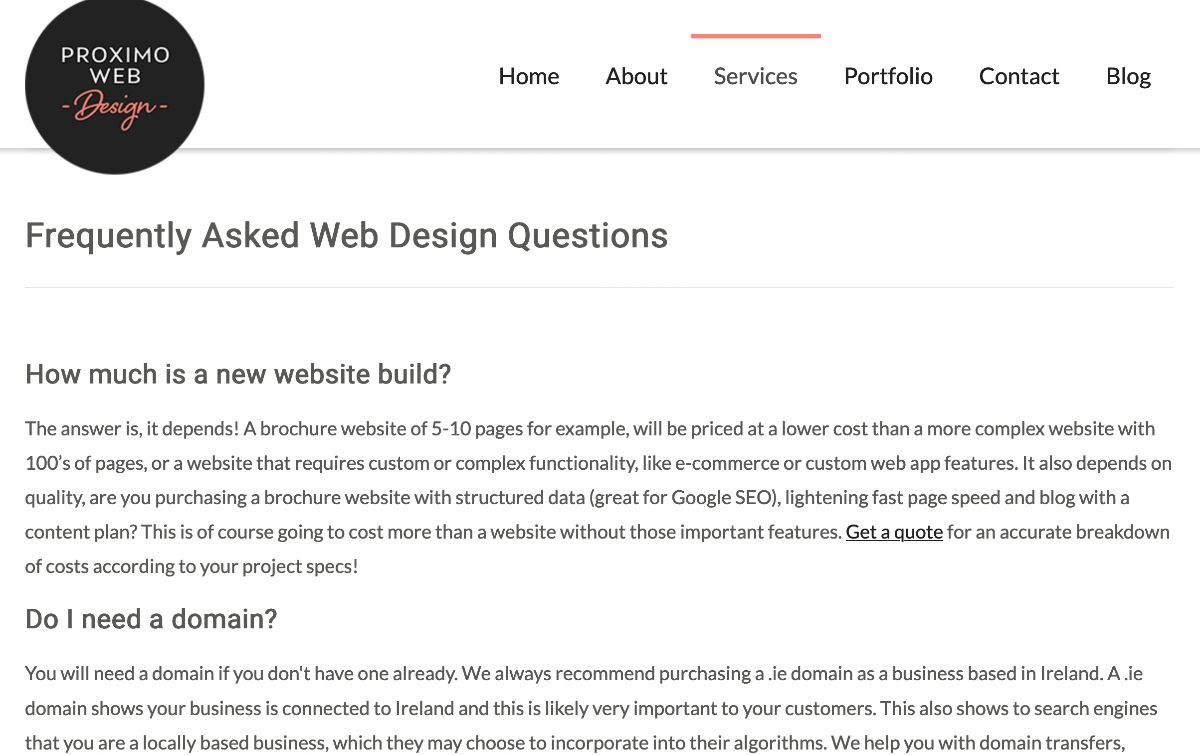 Yes, I have some faq answered on my service pages!
Whether from pre-sales questions, support questions from clients or from social media. This goes towards speaking to your *potential or existing customers pain points. If you do have commonly asked questions, would an FAQ page suit your website?
And don't forget, just because you have an FAQ page, doesn't mean each FAQ's answer can't internally link into blogs or service/product pages. FAQ pages in particular can be great for e-commerce websites, where people can get a quick description of shipping details or returns policy, and each one can link to a longer dedicated page. As people ask pre or post sales questions you can decide whether to add those into your FAQ or not. If you feel a new question asked would also be valuable for others, just add it into the list.
Personally speaking I have often used FAQ on an e-commerce site before making a purchase, and then made the purchase immediately once I found my question there, so this is saving that company time in replying to questions, and saving the customers time who can make a purchase straight away instead of having to wait for a reply.
Do I have Google searches I want to appear for?
All of my clients I work with have services or products they offer, that they want on page one. This takes work and research because they will typically be competitive searches so for you to get page one, someone else has to get pushed to page two.
This is where using a long-tail search strategy will help, getting page one for teeth whitening for a dentist for example might be tough, but perhaps you can get page one for 'zoom teeth whitening', 'wedding teeth whitening' and you could even localise that down further by making it 'wedding teeth whitening cork' 'zoom teeth whitening cork'.
Do I see questions I can answer in 'people also ask'?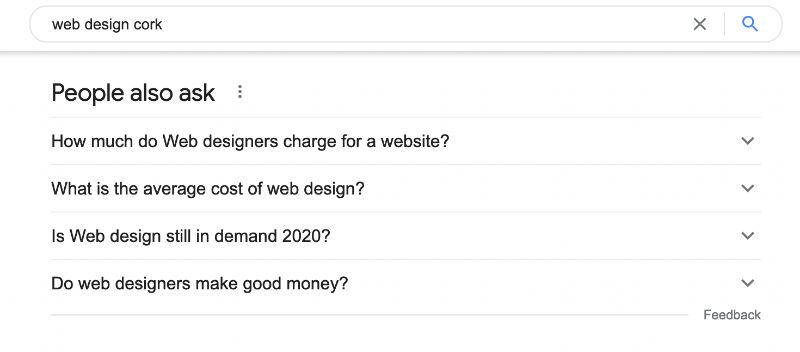 Take a look at the 'people also ask' results in Google search, and note any that you could provide content for. Especially if you click into those results and you can see any that aren't being answered well for users. If you have made use of 'people also ask' during your Google searches you might have noticed the answers in there are usually in well formatted HTML.
So they might have made use of a bullet list, or perhaps they answered a question in a succinct paragraph or two with a clear heading on the page. You can research these and find some to target, even without ever getting a placement here, which would be a bonus, because these are frequently asked questions around a particular topic or search, it's likely even people visiting your website from other places will find the answers to those questions useful as they are showing some commonality in your target markets pain points, that you can provide content to answer.
Is each page on your website a resource?
Think of each page on your website as the definitive resource for that topic. When you're wondering whether you should add another page or expand out an existing one, it comes down to your discretion and whether in only using a few paragraphs as part of an existing page is too limiting, your options could be to:
1. Add a new page dedicated to that content
2. Use an excerpt and internally link to another full format page or blog post.
In fact, if content relates to that other page, it really should internally link anyway with or without introductory text, but just to let people know there is a related service/article or page over here they might like to read next that discusses a mentioned detail in an in-depth manner. Internal linking can be one of the most under-rated SEO techniques we have at our disposal!
One of the most crucial elements of building a logical site architecture is linking between pages. This can be done through both navigational items and internal links in the body content. – Search Engine Journal
Conclusion
I hope you found this article helpful in your websites content creation strategy. Start with the basics, draw out your sitemap, think about what are the essential pages, and think about your ongoing plan to supply fresh relevant content including how to utilise internal linking to create a user journey.