Watch the video below and read the article to find out how you can optimise your website for Google search. This SEO checklist is simple, to the point, and while it takes some investment of time to achieve, my aim is to prevent overwhelm by giving you achievable steps that you can make a start on right away.
Playing this video loads a YouTube embed in privacy-enhanced mode.
1. Set up your website in Google Search Console.
Google search console is a free tool Google provides that will give you data on exactly what pages on your website are currently indexed, how much traffic is coming in from those pages, what search queries people used to arrive on your website and more.
You can set this up using a simple meta tag. The most straightforward method is to choose the option to the right hand side below, and just make sure if your website is 'www' when it loads the domain that you include that, or if it loads without the 'www' you can use that version of the domain.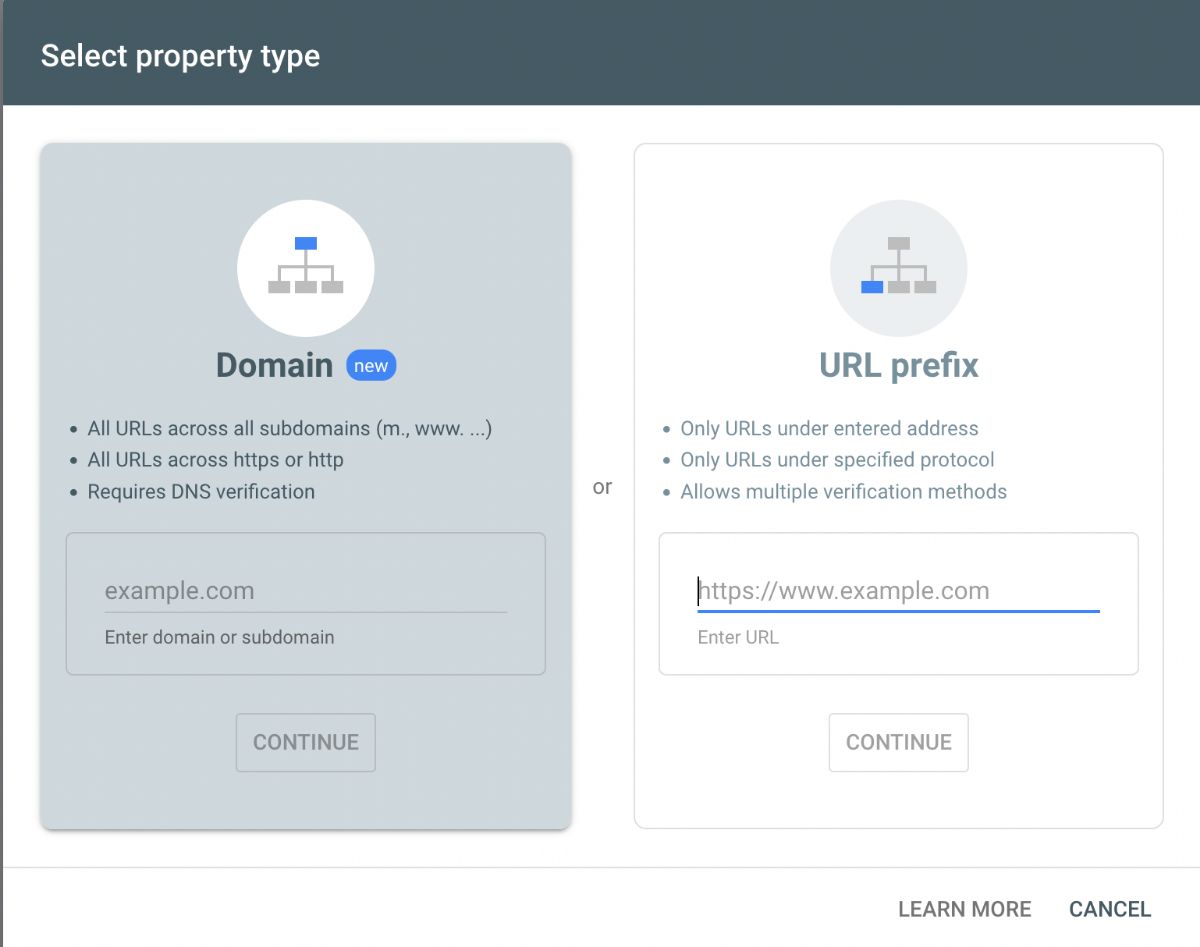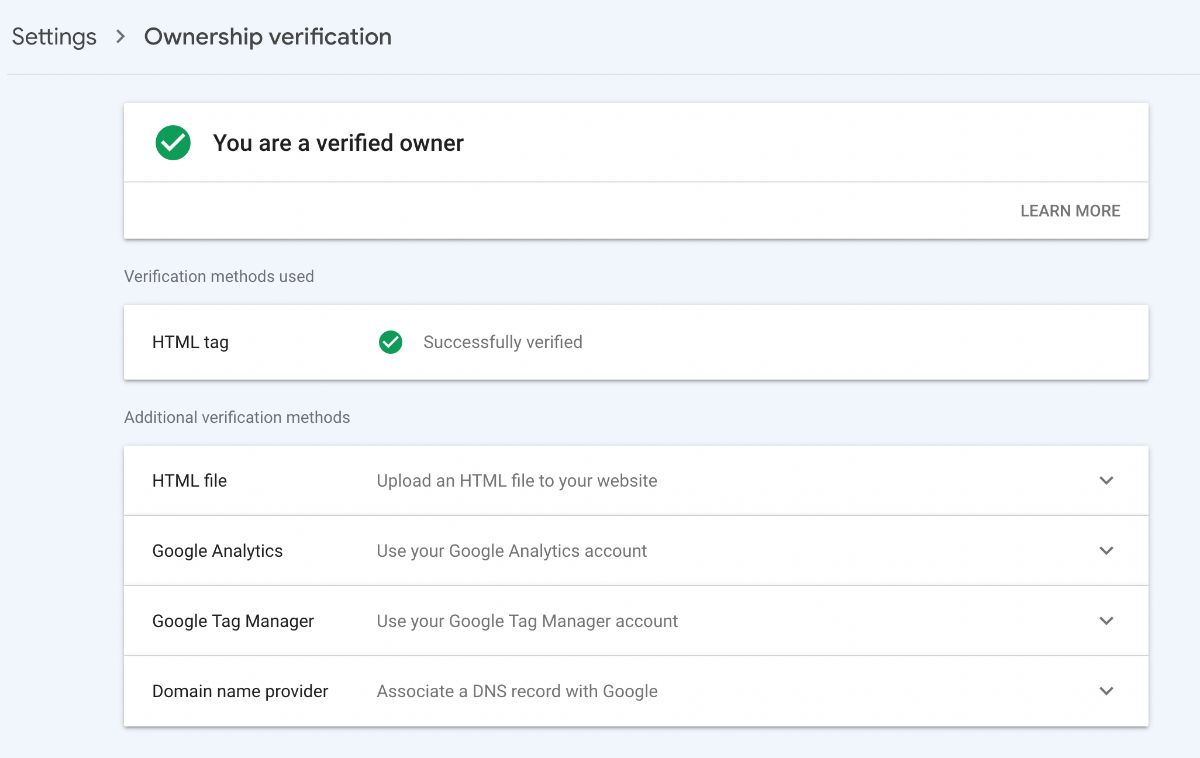 Once it's set up you can now track all of your organic (that is, non-pay per click) google traffic, this includes:
What search queries people used that clicked into your website.
What are your top pages getting clicks and impressions.
What device someone used, whether it was desktop/mobile/tablet.
Your websites average rank in Google.
In the performance tab, just check the 'average position' option and you can see the actual ranking for each page and in the table towards the bottom you'll see what rank you are in Google for each individual query.

Individual position in Google Search Engine Result Pages (SERP)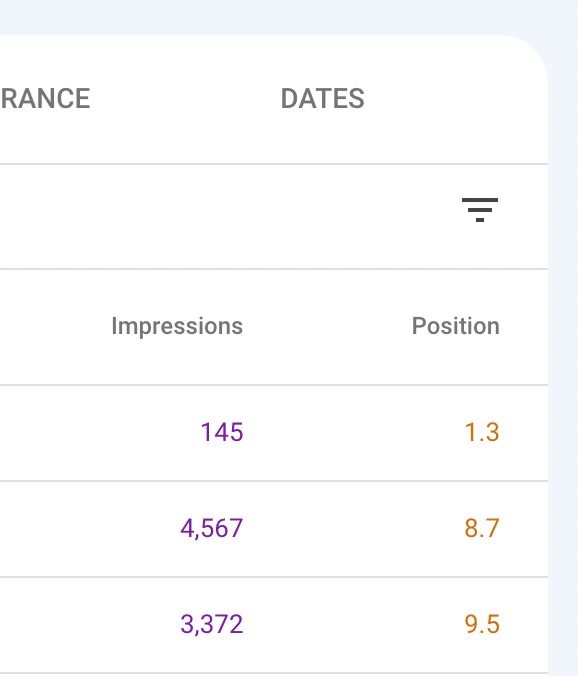 Make use of support services! Whether you work with a web development company, or hosted services like Shopify/Wix etc, in my experience with Shopify they have an incredible and very helpful support service, and they will be more than happy to either insert the tag for you, or send you step-by-step instructions for how to do it using their system.
2. Check your websites pagespeed.
Google performed a page experience ranking update this year which completed around August 2021, page experience is included in google search console so you can track any areas of improvement there, but page speed makes up an important component of overall page experience as a core web vital.
Again, Google have provided a really handy tool for checking your websites page speed, it's called Google PageSpeed Insights. Type your domain or url in, and you'll get your PageSpeed score plus you'll see advice underneath that score on how to speed up your website. So if you have a particularly large image, a video, some javascript files or anything else slowing down your website, this information is very handy to find the culprit.
If you do have large images you're uploading to your website, look for an online image compression website and if you search that using Google you'll find a few options. You can test your web page by running it through pagespeed insights without image compression, and then running it through after compression to see the improvement in your PageSpeed results.
Another aspect of the page experience update is around 'intrusive interstitials', otherwise known to us as 'pop-ups'. While we love these for marketing and getting people to sign up for a newsletter, or to add additional related products to their cart, they can be an annoyance to users and provide a poor user experience on your website overall. Personally speaking my preference is to put sign up forms or anything that's being presented in a popup, physically on the page instead. However I do understand their use in a marketing context.
Rule of thumb, don't load any pop-up immediately when someone visits your website, and be especially careful when it comes to using pop-ups on mobile, where they will take up the whole screen and the 'x' or spare space where someone can close the popup to return to the page might be extremely small and difficult to tap.
This is what removing a popup looked like for a client! 'Good URL's' had completely flatlined, visible in Google Search Console, and once the pop-up was removed, you can see it coming back to full health.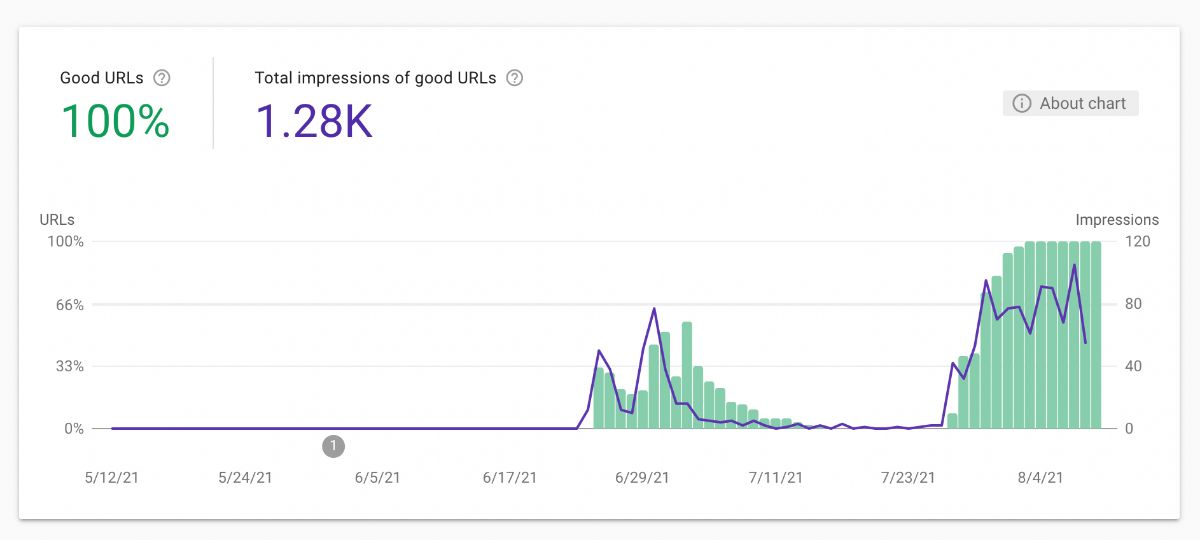 In general those things we are trying to push for marketing purposes are complimentary to the existing content on the page, so don't sacrifice an otherwise user friendly and helpful website, giving great user experience, to a pop-up that may take away from that.
I'm giving you tips 3 and 4 together:
3. Use keywords and keyphrases in your page titles.
You're probably used to seeing page titles and meta descriptions every day within search engine results, such as the classic 10 blue links you see in Google's SERP but you might not have known their name.
That blue link you click on typically comes from the text within your page title tags.
4. Make your meta descriptions compelling.
The descriptive text underneath, will come from your meta description. This text used to be a very important source of keywords, now it's not so much a source of keywords as it is to write compelling text there to incentivise that click. Why should someone click into your search result? That's what your meta description will tell them.

Let's say you're an Irish based business, and you have an offer on free delivery within Ireland, put that into your meta description! Or maybe it's free shipping on orders over 'x' value. Think of this like an ad with one clickable link, and the meta description is the ad copy that you're going to write to make people feel like clicking that specific link, over the others on the same page.
5. Structure the content on your page.
This is a huge topic that needs a whole other blog of its own! In a simple sense, avoid thin content, meaning sparse and not providing enough value to the visitor. Your aim is to keep that visitor on your page and engaged as long as possible and to avoid the dreaded bounce (a bounce is a single page session on your site), which may occur if the page didn't fully meet the users search query or provide enough value to them, which in turn indicates to Google that your page wasn't a good result to return.
Something that can really help towards any issues with thin or low quality content, is to use your blog as a way to create long-form high quality content. You can use your blog posts to then link through to any of your relevant service or product pages, and of course use internal linking into other blog posts too. In doing initial keyword research for blogging, just do your own Google search, scroll to the bottom of the page and you'll see 'related searches', these can be little gold-mines of data and informative as to what your potential customers might be already searching that you have the ability to create content for.
Another technique I LOVE towards blog planning, is taking a look at 'people also ask' in Google SERPs. Now you might not trigger this to appear with all searches you do, but play around and if you do trigger it, jot down and click through those options. You'll find as you click into them you may be presented with even more options.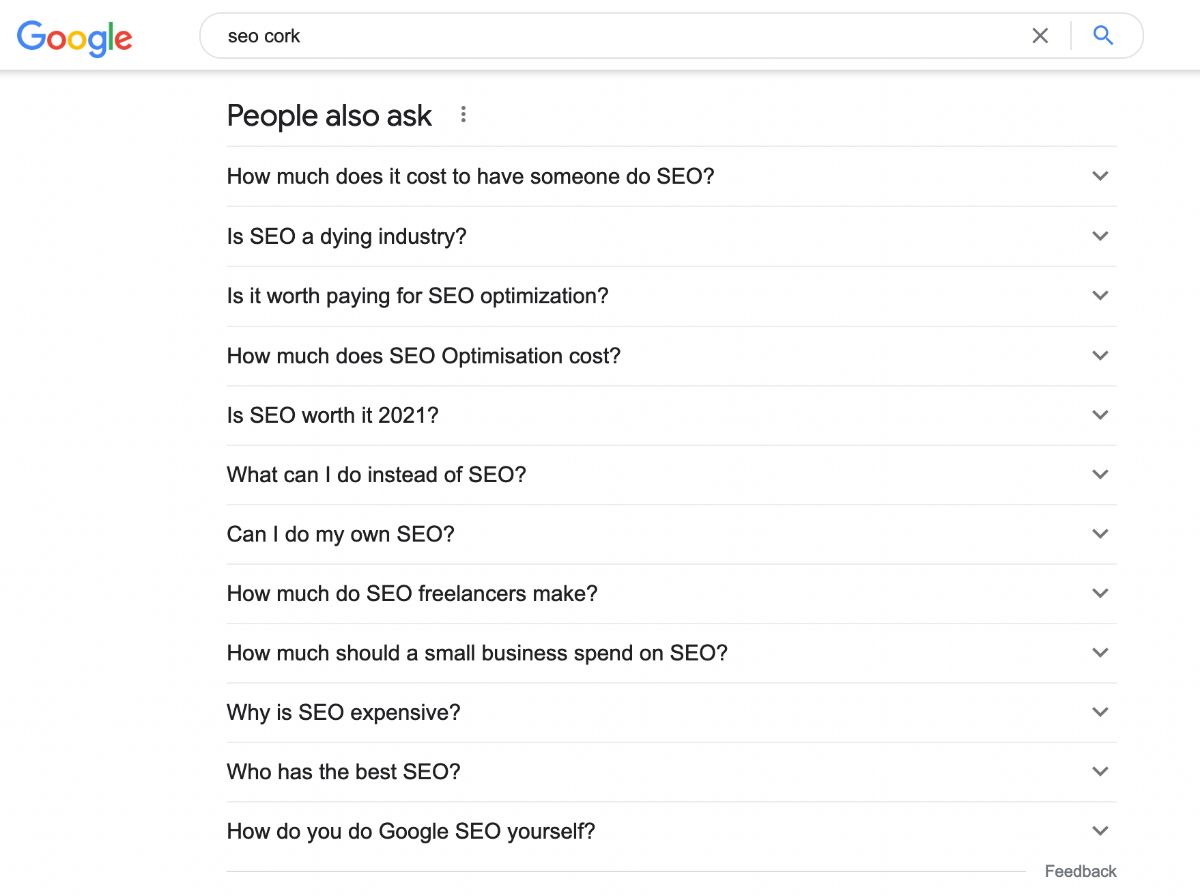 If you see something in 'people also ask' that you can answer using your blog, use that as your blog title!
Technically speaking when it comes to content structuring, try to use:
Headings
Bullet lists
Strong (bold) and italic text
Images
Don't forget when including images, to create alt text.
…alt text is the written copy that appears in place of an image on a webpage if the image fails to load on a user's screen. This text helps screen-reading tools describe images to visually impaired readers and allows search engines to better crawl and rank your website.
Source: https://blog.hubspot.com/marketing/image-alt-text
It's important to strike a balance here, we may want to use keywords, but we shouldn't ONLY use keywords. After all, the purpose of the alt text is to help blind people to navigate your website, so the alt text should describe the content of the image. We can incorporate keywords but only if it's done in a natural way and without 'stuffing' the alt text that is then going to provide disabled visitors a terrible user experience on your site.
Use internal linking to link to other blogs you've written, that might be relevant to the current content in this article, or to send people to a related product or service page but always keeping them visiting more pages on your site. Internal linking is SO important to the user experience and helps towards your Google rank too as people spend time visiting different pages on your website, this is the best indicator that returning your website for a search query was a good move by Google and they should continue to do it!
Conclusion.
Well you have reached the end! Well done. I hope this blog will be a good resource for you in making the very first steps towards capturing that lucrative Google traffic from organic SERPs. If you haven't even built your website yet, I've also written about website content creation strategy where I speak about how to write content for your website including what pages you might want to include. If you are a local based business, you might also like my blog on local business SEO maps and search basics
The best of luck on your SEO journey and get in touch if you need a hand with anything!