My initial thoughts, do we need another social network? Well having joined Google Buzz in Beta, which was a massive flop and ultimately was completely scrapped by Google, I felt quite reluctant to join their next offering. Google Plus when first launched hadn't fully smoothed out the 'hangout' functionality, it was difficult to understand what exactly 'circles' were and to organise people this way. In the space of a year how things have changed!
Google Authorship
If you've searched for anything recently on Google, you might have noticed some results appearing with a small avatar on the left hand side, and a little text 'By Name Surname' followed by 'in x-amount Google+ circles'

This will particularly appear on blog pages from around the Internet. So anyone searching technical or niche queries will come across these quite frequently. Google Authorship will ONLY show in Google search results for people with either a verified domain email address for the given domain and 'By Authorname' or 'Author: Authorname' added in plain text with content they have authored on the same web site.
The recommended method as specified by Google is to use a domain verification for domains you own or have access to, and to only use the alternative tag 'rel=author', their second method, for articles that perhaps you have guest authored on a third party web site so you will still show up in search results as the author even if the domain is managed elsewhere.
There is no other way to have authorship info show in search results than to set up a Google Plus profile for it, and to link that profile with your web site directly, and this is one of the reasons why Google Plus will be a massive success now.
Is it blackmail? Most definitely! Is it also adding value to search results? Yes! It would be cool if people's Twitter account avatars could be used like this, or Facebook profiles, but, this is a business, and why would Google help it's competitors risking it's own success? So I can see why they have done this, and it makes great business sense, but it does make you hanker for an equally popular and widely adopted niche search engine, that isn't interested in entering the social network market but that could show social network linked info from people's chosen sources around the Internet than limiting to just their own offering.
Google Pages
After your personal profile has been created, you can also create a business page. Now, I found the category offering and the lack of ability to create a custom category very frustrating.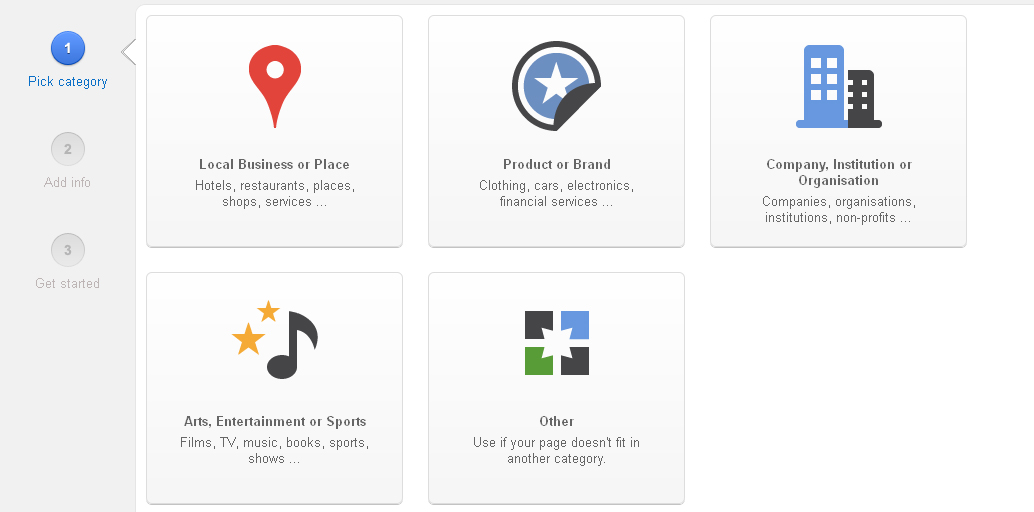 I initially chose 'company/organisation' as it seemed to have categories relating to 'web design', I then discovered Google pages can be linked to your Google places listing, which I love the idea of as Google places is a quite neglected offering. However, you must have set up a 'local business or place' in order to link the two. Once you have your local Google Page set up, you can link it back to your Google places listing but verification is ONLY performed as of March 2013 via a posted postcard to your business address. I also found almost all of the categories for local pages were restaurant categories, the closest I could match to web design (web design/development, Internet marketing, programming, nothing along these lines is available as a category, yet choosing a category is required) was 'Organizations – Professional', which isn't really a fit but it's so general it does apply. I think Google don't realise perhaps that web design companies are not always global ;), I have a very strong local presence in Ireland and I'm not really interested at this moment in a global market so I would prefer a proper local page!
Publisher Authorship
Once your Google Page is created, you can also verify the page itself. Now at the moment this does not give any advantage or change for Google Search Results, but I hear on the grapevine that if the Google page itself is linked back as a verified publisher of the web site, that a straight search in the future for 'My Company Name' would show customised search results on the right hand side showing your Google page along with recent updates etc. So this is worth doing even if you can't view exactly what they will do with this in search results yet.
Google Hangouts
Apart from authorship, Google hangouts make me feel better about the blackmail aspect to all of this! A Google Hangout could consist of a single person speaking privately to another person via webcam, but here's where it gets fun, you can create a public hangout that will stream LIVE to your page for anyone to view that's online at that moment. When the public streaming hangout is finished you can upload the finished product to your YouTube account for anyone that missed it to view.
Google Plus Communities
So Google communities look very strong to me at the moment even if we are waiting a little for more people to join G+. It's easier and faster to share than a forum, and the addition of hangouts in an integrated offering just can't be beaten by any other offering available today. Being able to stream live to your Google page, or your web site (just embed the tag), or YouTube is the most exciting functionality, and although I haven't done a live Google hangout yet, it looks easy to use, mind you I'll have to report back on this!
I am free for a Google hangout to chat about your web site anytime, so if you want to see how that works just follow my G+ profile!